Apple Makes History with $3 Trillion Market Value, Becomes First Publicly Traded Company to Achieve Milestone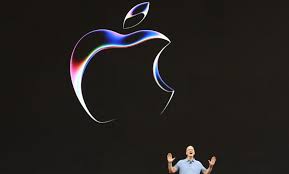 In a groundbreaking moment, Apple has become the first publicly traded company to close a trading day with a staggering market value of $3 trillion. On Friday, the tech giant's shares rose by approximately 2.31%, reaching an all-time high. While Apple had previously reached the $3 trillion market cap milestone in January 2022, it had not managed to end a trading day at that level until now.
The year 2023 has been particularly successful for Apple's stock, experiencing an impressive surge of nearly 46%. This achievement marks a notable contrast to 2022, when the company's market cap had dipped below $2 trillion for the first time since early 2021.
This significant milestone comes in the wake of Apple's recent launch of the highly anticipated Apple Vision Pro, an augmented reality (AR) headset. Priced at $3,499, the headset is scheduled to go on sale next year. Notably, users will need to remain connected to a battery pack, similar in size to an iPhone, to utilize the device's AR capabilities.
While industry competitors like Microsoft, Google, Nvidia, and Meta have embraced the AI trend that emerged with the introduction of OpenAI's ChatGPT in late 2022, Apple has taken a different approach. The company has largely avoided direct mentions of artificial intelligence, choosing to concentrate on other areas of technological innovation. It is worth noting that, alongside Apple, only four other U.S. companies, including Alphabet, Microsoft, Amazon, and Nvidia, currently boast market valuations exceeding $1 trillion.
Apple's remarkable performance in its quarterly earnings report released in May further solidified its reputation among investors. Despite a decline in sales and profit, the company's strong financial results continue to attract attention and support from the investment community.
The $3 trillion market value achievement reinforces Apple's status as a global tech powerhouse and underscores its ability to captivate both consumers and investors alike. As the company continues to innovate and expand its product offerings, it remains a focal point of interest in the ever-evolving technology landscape.
Also read:
Google Cloud Launches Accelerator Program to Support ONDC's Digital Commerce Network in India
To get more updates, Follow us on
Facebook , Instagram , Twitter , LinkedIn
About Author