Abdul Rahaman following his dreams while pursuing his MBA from BITM college. Founder of Preparation247.com, preparation247.institute.org.in, and an NGO: We care organization. Apart from startups, he looks over his family's Real estate and construction businesses.
Achievements he shares with us:
Best Creative entrepreneur of the year 2020 at New Delhi by MSME chamber of commerce and industry.
Social entrepreneur of the year 2021 by PR Press
His startup won the title of Best EduTech firm in Karnataka in July 2022 by the Karnataka Traders chamber of commerce and industry
Member of International Organization:
Youngo cop 26 by UNFCC
Climate warrior at Google
Red cross society member
National member of:
JCI India.
Karnataka traders and the chamber of commerce
He was a finalist in NAS Academy under the mentorship of Ritesh Agarwal the founder of Oyo he pitched his idea and also cleared 3rounds and lost in finals.
Abdul says: I'm also involved in social welfare activities such as creating awareness, helping students, and assisting entrepreneurs for the betterment of society, Currently, I'm working on my dream project WEB247. Com it's a platform that helps every individual get their own free website and app"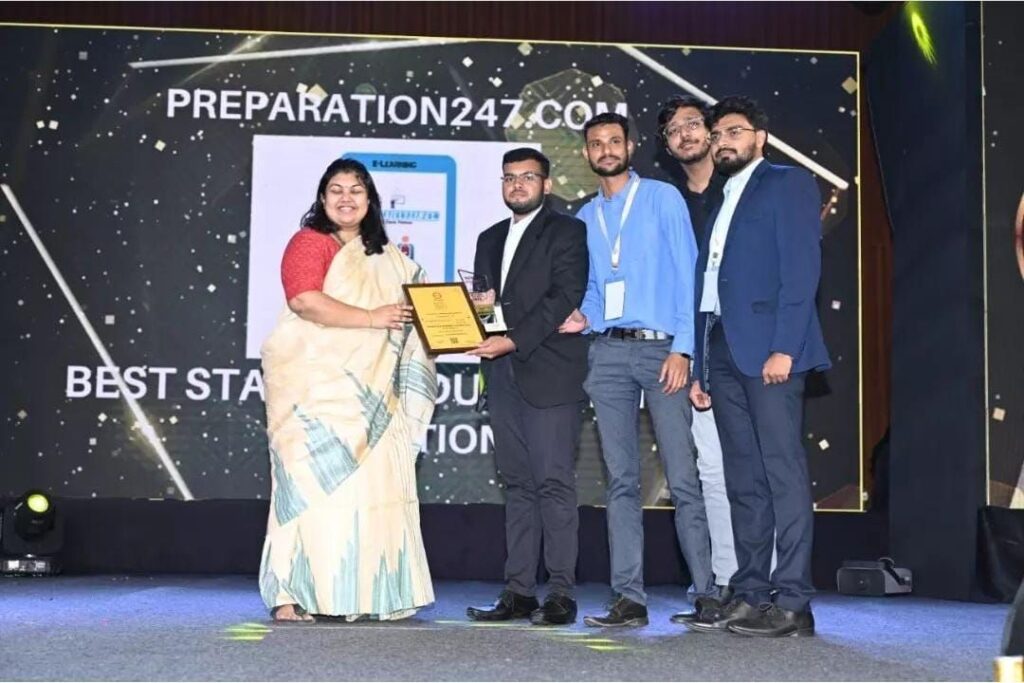 Question and Answer
• Who is your role model in entrepreneurship, and what is one thing you would learn from him or her?
My role model is Vijay Shekar Sharma sir (Founder of Paytm) as we know he hails from a small town and he had no support and started everything from scratch. He speaks from the heart. His colleagues love him because he is a genuine person, who is kind to all.
He is a risk taker and confident about the business. And this is what I learned from him no matter where you stand today your gesture towards everyone should be kind and humble.
• How do you manage your workload of being responsible for your startup as well as your family business?
It's not easy to take care of a family business and a startup as both are involved in different fields such startup is an ed-tech platform whereas my family business is involved with construction and real estate. Hence during the day time, I look over my family business and at night I spend time on startup-related stuff basically my team looks at the overall technical, financial, tutorial, and marketing activities I just review them and guide my team for the next tasks all this happens at night.
• What motivates you to keep serving society and work towards a greater cause?
My father is a politician turned businessman so his working style, and his affection towards people and society. And people's faith in him motivates me to work for the betterment of society.
I always wanted to be like my dad so I have started my own NGO we care organization where I & my friends volunteer to assist local people, empower students about education, and visit orphans we have served as corona warriors during the pandemic by joining the district administration with help of Indian red cross society.
• What are your long-term and short-term dreams? Tell us about the roadmap you have a draft to achieve them, in short.
The short-term goals are to build a platform that enables individuals in India to build their own customized websites and apps as per their requirements /needs.
Roadmap: I did a survey on providing free web services to common people which received a +ve response from the public and based on the review I have modified it. Currently, the platform is under the building.
My long-term goals are to expand my family business and startup overseas.
Roadmap: Converting sole prop. Company to Pvt. Limited and have registered in exam code and collaborated with same industry businessman for higher reach and business. Will officially start in a month.
• India is the third-largest start-up ecosystem in the world. Yet only 10% of these start-ups succeed. What are the causes of such failures?
In my opinion, the primary cause for the failure of businesses is greediness for money because businesses can be successful only when it's solving an issue, so there must be a problem, and entrepreneurs need to solve it by sharing something which is affordable by all.
The secondary reason is weak cash flow, weak business model, and settling at the beginning.
• Share some tips to ensure successful businesses and start-ups.
A unique way of solving a problem.
Strong business model.
Optimum utilization of financial and human resources.
High connections and greater reach.
Market research & hardcore marketing.
• As a keen enthusiast of climate change, what is your take on the same?
Climate Change is the defining issue of our time and we are at a defining moment. From shifting weather patterns that threaten food production to rising sea levels that increase the risk of catastrophic flooding, the impacts of climate change are global in scope and unprecedented in scale. Without drastic action today, adapting to these impacts in the future will be more difficult and costly.
I'm proud to share that I'm a * climate change warrior* in UNICEF India, I have participated in more than 30confernces where I spoke about sustainable goals, green energy, etc, and have planted 200+saplings
• What are a few words you would say to bud and future entrepreneurs?
Before starting or investing in anything self-analysis is mandatory.
A startup is not only about raising funds its all about providing affordable services which solve a problem.
Build a team of like-minded people who are good learners.
Be confident and bold because if u r dedicated miracles will happen.
About Author