Battery Smart Secures $33 Million in Funding to Expand Geographical Presence and Customer Base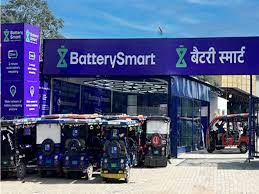 Battery Smart, a leading battery swapping network, has successfully raised $33 million (Rs 272 crore) in a pre-Series B funding round. The investment was contributed by existing investors Tiger Global and Blume Ventures, alongside new investors The Ecosystem Integrity Fund and British International Investment. This significant capital infusion will be utilized by the Delhi-based company to expand its geographical presence and increase its customer base by one lakh (100,000) by the year 2025. Currently, Battery Smart serves 25,000 customers across Tier I, II, and III cities.
Pulkit Khurana, Co-founder and CEO of Battery Smart, expressed the company's dedication to improving the livelihoods of its station partners and drivers, empowering them to actively contribute to India's electric mobility transition. "This investment signifies our commitment to enhancing the livelihoods of our station partners and drivers, empowering them to play a significant role in India's transition towards electric mobility," stated Khurana.
The Ecosystem Integrity Fund's Managing Partner, Devin Whatley, expressed excitement about the partnership with Battery Smart, emphasizing the company's impressive and sustainable growth resulting from its innovative business model. "We are excited to partner with Battery Smart, a company whose innovative business model has enabled impressive and sustainable growth," said Whatley.
Battery Smart operates a robust battery swapping network, providing convenient and efficient solutions for electric vehicle (EV) owners. The company's approach allows drivers to exchange depleted batteries for fully charged ones at designated stations, eliminating the need for lengthy charging times and infrastructure limitations. By facilitating quick and seamless battery swaps, Battery Smart aims to address one of the significant challenges associated with widespread EV adoption—the availability and accessibility of charging infrastructure.
With the latest funding, Battery Smart is poised to accelerate its expansion plans, establishing a stronger presence in untapped regions and capturing a larger market share. The company's vision aligns with the Indian government's ambitious goal of achieving 30% electric vehicle penetration by 2030. Battery Smart's expansion efforts are expected to contribute to the realization of this target by providing reliable and efficient battery swapping services to a broader consumer base.
The company's success in securing funding from prestigious investors further validates its business model and growth potential. The support from Tiger Global, Blume Ventures, The Ecosystem Integrity Fund, and British International Investment underscores Battery Smart's promising trajectory in the dynamic and fast-growing electric mobility sector.
Battery Smart has carved a niche for itself in India's EV ecosystem, demonstrating its commitment to sustainable transportation solutions. With the fresh infusion of funds, the company is well-positioned to make significant strides towards its ambitious expansion goals and contribute to India's ongoing electric mobility revolution.
Also read: Varanium Group Achieves Successful First Close of its Inaugural Venture Debt Fund Valued at INR 250 Crore
To get more updates, Follow us on
Facebook , Instagram , Twitter , LinkedIn
About Author