Mykare Health Secures $2.01 Million in Seed Funding to Revolutionize Digital Healthcare in India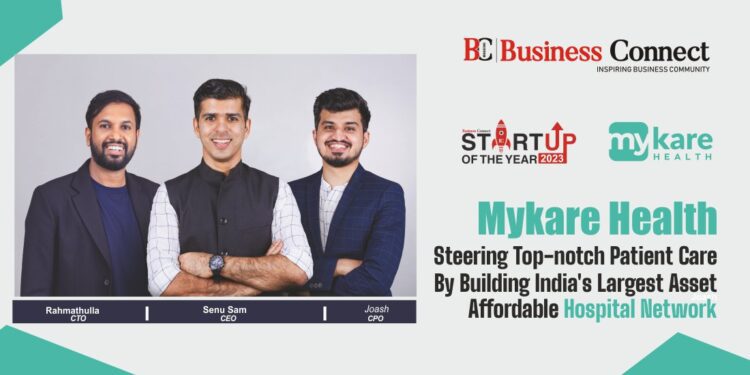 Kochi-based digital health startup Mykare Health has successfully raised $2.01 million in a seed round. The round witnessed participation from prominent investors, including OnDeck ODX – US, Avaana Seed, Huddle, Endurance Capital, F Health, VeritasX, Stanford Angels, Phoenix Angels, and several notable individuals such as Nitish Mittersain (Joint Managing Director, Nazara Technologies), Hari TN (Ex-BigBasket), Arjun Vaidya (Founder, Dr. Vaidya's), Sean (Hyunil) Sohn (CEO, Krafton), and others.
The funding will be utilized by Mykare Health to enhance the overall patient experience and bolster talent acquisition efforts. Established in 2021 by Senu Sam, Rahmatulla TM, and Joash Philipose, Mykare Health aims to create an asset-light, affordable, and standardized hospital network that focuses on delivering quality healthcare experiences to India's middle-class segment.
Senu Sam, CEO & Co-founder of Mykare Health, highlighted the challenges faced by patients, including a lack of administrative and pricing transparency, escalating healthcare costs, limited patient-to-hospital ratios, and inadequate access to quality care. The startup's patient-first approach aims to mitigate these challenges and provide a seamless, affordable, and high-quality care experience.
"We are committed to serving every common middle-class person in India and beyond, ensuring a seamless experience, affordability, and quality care. Additionally, we empower small and mid-sized hospitals to enhance their visibility and trust, ultimately reducing India's uneven patient-to-hospital ratio," stated Senu Sam.
In 2023, Mykare Health plans to expand its operations in South Indian cities, with a vision to improve healthcare experience and transparency for low and middle-income groups. The startup's purpose-driven proposition, catering to the middle-income segment and smaller hospitals, positions it for significant growth. By prioritizing quality, accessibility, and transparency, Mykare Health aims to make an impact not only across India but also on a global scale.
Over the past year, Mykare Health has treated over 85,000 patients and established partnerships with more than 200 hospitals in 12+ Indian cities. The startup has been recognized for its achievements, receiving accolades such as TiE Kerala Best Startup of the Year, SLP Best Startup of the Year, Headstart 23 Startups to Watch, KMA Best Startup of the Year, Inc42 Best Startup to Watch, Naturals Best Startup, and Business Connect Best Startup in 2023. Founder Senu Sam has also been honored with the Times 40 Under 40 Award.
About Author