Micron's $825M Investment Supercharges India's Semiconductor Ambitions in Gujarat Chip Facility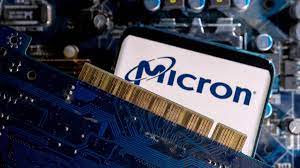 In a major move that highlights India's growing prominence in the semiconductor industry, Micron Technology, the renowned American chip maker, has announced a substantial investment of up to $825 million in a state-of-the-art chip assembly and test facility in Gujarat. This strategic decision not only marks Micron's first factory in India but also underscores the increasing interest of global companies in India as a prime investment destination for semiconductors.
With support from the Central government and the state of Gujarat, the overall investment for the facility is expected to reach an impressive $2.75 billion, as confirmed by Micron. The project received the Cabinet's approval just ahead of Prime Minister Modi's visit to the United States, highlighting its immense significance and the strong bilateral ties between the two nations.
India has been actively positioning itself as an attractive hub for electronics and semiconductors, implementing initiatives such as the Production-Linked Incentive (PLI) scheme for the sector. Sanjay Mehrotra, CEO of Micron Technology, expressed great optimism about the company's prospects in India, emphasizing their global leadership in memory and storage technology.
According to Micron's official statement, construction of the Gujarat facility is set to commence in 2023, with the first phase expected to be operational by late 2024. Plans for an additional phase of the project are projected to begin in the latter half of the decade. Collectively, these phases are anticipated to create around 5,000 direct job opportunities within Micron.
Establishing semiconductor units, commonly referred to as fabs, is a complex and capital-intensive endeavor. Fabs require cutting-edge technology, involve significant risks, and have long gestation and payback periods. Despite these challenges, the Indian semiconductor market is flourishing, having reached a value of $27.2 billion in 2021, and is projected to maintain a robust compound annual growth rate (CAGR) of nearly 19%, reaching $64 billion by 2026. However, India is still striving to achieve domestic chip manufacturing capabilities.
Micron Technology's substantial investment in Gujarat's chip assembly and test facility not only demonstrates the company's confidence in India's potential as an emerging semiconductor market but also holds the promise of creating thousands of job opportunities within the semiconductor industry. This development further solidifies India's appeal as a favorable investment destination and reinforces its ambitions of achieving self-reliance in chip manufacturing.
The true impact of Micron's entry into the Indian market will be closely observed as India continues to strengthen its semiconductor ecosystem. Collaborations with global industry players like Micron will play a pivotal role in realizing India's vision of becoming a self-sufficient player in chip manufacturing, propelling the nation to new heights in the world of cutting-edge technology.
Also read
Blume Ventures Announces Initial Closing of Fund 1Y, Targeting Rs 400 Million for Acquiring Successful Companies
To get more updates, Follow us on
Facebook , Instagram , Twitter , LinkedIn
About Author