French Crown Secures INR 8.6 Crore Investment from Velocity.in to Drive Innovation in Fast-Fashion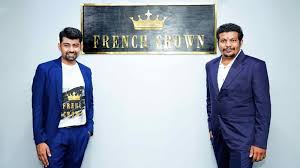 French Crown, a prominent fast-fashion brand, has successfully raised INR 8.6 crore through multiple tranches of funding from Velocity.in, a leading revenue-based financier in India. The infusion of funds is expected to fuel the brand's pursuit of innovation, enabling it to stay ahead in the competitive fast-fashion industry while challenging the prevailing notion of compromising quality.
Co-founders Ilesh Ghevariya and Bhavidip Ghevariya expressed their gratitude for the instrumental support and funding provided by Velocity.in. They highlighted the strategic partnership with Velocity as a pivotal factor in reaching a significant milestone, as French Crown emerged as a bootstrapped brand valued at INR 100 crore. This achievement showcases the brand's ability to thrive amidst fierce competition. The partnership has also facilitated investments in strategic marketing initiatives, resulting in increased brand visibility across global markets.
French Crown is driven by a vision to revolutionize the fast-fashion industry, and its progress is already evident with a remarkable presence in over 90 countries worldwide. The brand attributes its success to the implementation of advanced forecasting algorithms and in-house inventory tracking management systems, which not only minimize waste but also optimize inventory management.
Atul Khichariya, co-founder and COO of Velocity, commended French Crown's remarkable success story and acknowledged Velocity's role as a growth partner. He highlighted French Crown's unwavering commitment to sustainability, exemplified by the brand's ability to launch over 200 new designs every week while adhering to fair trade practices and minimizing environmental impact. French Crown's adoption of eco-friendly materials, ethical manufacturing practices, and transparent supply chain management has positioned it as a significant player in the conscious fashion movement.
The funding from Velocity not only strengthens French Crown's expansion plans but also enhances its capacity to challenge industry norms and provide consumers with high-quality fast-fashion alternatives. By offering unique and trendsetting designs without compromising on quality, French Crown aims to reshape the perception of fast-fashion.
The investment from Velocity has set French Crown on a path of growth and global recognition, empowering the brand to continue disrupting the fast-fashion landscape with sustainable practices and an unwavering commitment to excellence. As the brand forges ahead with its innovative approach, it aims to redefine the fast-fashion narrative and offer consumers a refreshing choice that combines style, quality, and ethical values.
Also read
Blume Ventures Announces Initial Closing of Fund 1Y, Targeting Rs 400 Million for Acquiring Successful Companies
To get more updates, Follow us on
Facebook , Instagram , Twitter , LinkedIn
About Author