1.Bold Move: VLCC Expands its Presence with Ustraa's Acquisition:
In a strategic move to diversify its portfolio and tap into the growing men's grooming market, renowned wellness and beauty conglomerate VLCC has recently acquired Ustraa, a fast-growing startup specializing in men's grooming products. This acquisition marks VLCC's entry into the male grooming segment and underscores the company's commitment to catering to the evolving needs of modern consumers. In this article, we delve into the details of VLCC's acquisition of Ustraa and its potential implications for the beauty industry.
2.Empowering Men: VLCC's Entry into the Lucrative Men's Grooming Market:
i.VLCC's Expansion Strategy:
With the acquisition of Ustraa, VLCC strategically positions itself to capitalize on the burgeoning men's grooming industry. Ustraa's strong brand presence and innovative product range complement VLCC's expertise in wellness and beauty. By venturing into the male grooming segment, VLCC aims to leverage Ustraa's success and tap into the growing demand for high-quality grooming products tailored specifically for men.
ii.Ustraa: A Disruptive Force in Men's Grooming:
Ustraa has gained significant traction in the market by challenging traditional notions of grooming and offering a wide array of products designed exclusively for men. From beard oils and shaving essentials to hair care and skincare solutions, Ustraa has built a loyal customer base that values its focus on quality, effectiveness, and masculinity. This acquisition provides VLCC with an opportunity to harness Ustraa's innovative spirit and accelerate its own growth in the men's grooming space.
iii.Synergistic Benefits and Expansion Prospects:
By joining forces, VLCC and Ustraa can leverage their respective strengths to create a formidable presence in the men's grooming market. VLCC's extensive distribution network and industry expertise can help propel Ustraa's products to a wider customer base, both within India and internationally. Additionally, VLCC's robust infrastructure and manufacturing capabilities can support Ustraa's scaling operations, enabling faster growth and product innovation.
iv.Consumer-Centric Approach:
VLCC's acquisition of Ustraa reflects a growing trend in the beauty industry, where companies are increasingly recognizing the unique grooming needs of men. This strategic move allows VLCC to cater to a broader demographic and adapt its offerings to suit the evolving preferences of male consumers. By providing high-quality grooming products tailored to men's specific requirements, VLCC aims to establish a stronger connection with its customers and enhance their overall grooming experience.
v.The Future of Men's Grooming:
As the men's grooming market continues to thrive, VLCC's acquisition of Ustraa positions the company at the forefront of this growing industry. By combining their expertise, resources, and customer insights, VLCC and Ustraa have the potential to drive innovation and shape the future of men's grooming. This strategic collaboration allows VLCC to diversify its product offerings and strengthen its position as a comprehensive wellness and beauty solutions provider.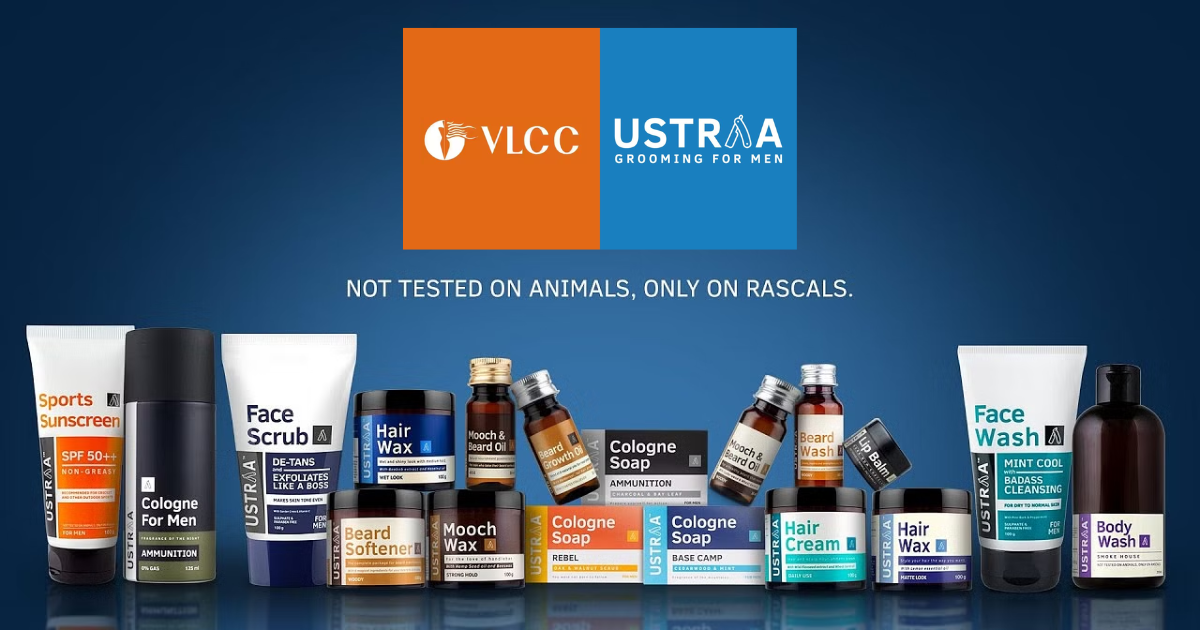 Summary:
VLCC's acquisition of Ustraa signals a bold move into the men's grooming sector, expanding the company's reach and diversifying its portfolio. With Ustraa's disruptive presence and VLCC's industry expertise, this partnership has the potential to revolutionise the men's grooming market, offering a wide range of high-quality products that cater specifically to male consumers. As VLCC continues to innovate and adapt to changing consumer demands, it solidifies its position as a key player in the ever-evolving beauty and wellness industry.
About Author